Waterbenders can choose to be from the Northern or
Southern Water Tribe
.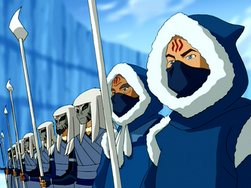 Northern Waterbenders
Edit
Head Waterbender
Edit
There will be a voting poll.
Add yourself to the list and your username will become eligible here.
Vs. Fire Nation

Ended in Northern Water Tribe's favor, due to the usage of illegal OranoPlatinum Weapons by the Fire Nation. General Blazing Ahmad narrowly escaped Judgement, by bribing the tribal chief, who is NOT ISM up to this point.
Ad blocker interference detected!
Wikia is a free-to-use site that makes money from advertising. We have a modified experience for viewers using ad blockers

Wikia is not accessible if you've made further modifications. Remove the custom ad blocker rule(s) and the page will load as expected.